Rainbow Grocery Cooperative, Inc.
1745 Folsom Street @ 13th Street
Telephone: (415) 863-0620
Toll Free: (877) 720-2667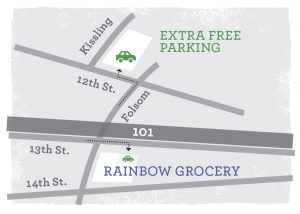 PARKING AT RAINBOW, A PRIMER
Finding parking can sometimes be a challenge, given our proximity to downtown. So Rainbow offers vehicle parking at three locations:
Our main parking lot off 13thStreet is the most easily accessible and frequently has a line out to the street.
If this lot is full you can drive around the corner to our lot located on the corner of Trainor Alley and 14th St.
If it too is full, you can make a right onto Folsom and look for street parking or make a left at 12th St and park in the Soma Hub Garage. We offer Free Validated Parking at this garage located on 12th St between Folsom St and Kissling. 
Please be careful when entering and exiting all lots and garages. And always bring any and all valuables with you.
DIRECTIONS:
From South Bay:
Take 101 North toward San Francisco
Exit Vermont St/433A
Turn left on Vermont Street
Take 2nd left onto 16th Street
Turn right onto Folsom Street
From North Bay:
Take 101 South toward San Francisco
Follow signs onto Lombard Street
Turn right onto Van Ness Avenue
Turn left onto 14th Street
Take first left onto Folsom Street
From East Bay:
Take I-80 West toward San Francisco
Take exit 1C toward Ninth St/Civic Center
Continue slightly left onto Harrison Street
Turn right onto 14th Street
Turn right onto Folsom Street