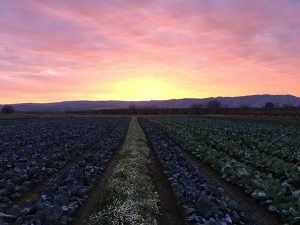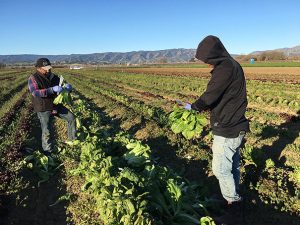 Rainbow Grocery celebrated Cesar Chavez Day with FARM WEEK Monday 3/26/18 – Saturday 3/31/18 (excluding Friday) -Supporting local and organic farms since 1975-
On March 2018 Rainbow Grocery celebrated Cesar Chavez Day by honoring the farm workers and farmers who bring the food to our tables. Rainbow presented Farm Week with demos throughout the store from local farms and related organizations. In honor of Cesar Chavez Day we were closed on Friday, March 30th 2018.
Since 1975, Rainbow has continuously been a leader in supporting organic farmers and local companies. Come meet the farmers who grow the food we eat.
"Yes We Can"
Cesar Chavez was a Mexican-American farm worker and civil rights activist born in Arizona in 1927. His whole family worked in the fields. After losing their property, they moved to California and continued to harvest crops. Cesar quit school in the 7th grade to work in the fields so his mother wouldn't have to.
Cesar became an activist and labor organizer in 1952 with the Community Service Organization  (CSO). He was an admirer of Martin Luther King, Jr., and Gandhi. He embraced non-violence, saying "There is no such thing as defeat in non-violence." He used boycotts, marches, fasting, strikes, and protesting. He insisted on respect for all life, becoming vegetarian, and later vegan.
"I became a vegetarian after realizing that animals feel afraid, cold, hungry, and unhappy like we do. I feel very deeply about vegetarianism and the animal kingdom."
Labor activist, Dolores Huerta, and Chavez founded the National Farm Workers Association (NFWA) in 1962. It became the United Farm Workers  (UFW) . Huerta coined the slogan "Si Se Puede" in 1972.
In 1968, Cesar and Robert F. Kennedy, presidential candidate, met in Delano, CA. Kennedy was on a U.S. congressional committee on migrant labor. He was appalled by labor conditions for field workers. They became friends and worked together until Kennedy's death in June, 1968.
In 1975, the California Labor Relations Act was one of Chavez's greatest victories. It created the Agriculture Labor Relations Board. The UFW continues to be active today.
Chavez led grape boycotts because pesticides were making workers ill with birth defects and cancer. Ultimately, consumers could become ill, also.
"Who gets the risks? The risks are given to the consumer, the unsuspecting consumer and the poor work force. And who gets the benefits? The benefits are only for the corporation, for the money makers." (Cesar Chavez)
Cesar Chavez died of natural causes on 23 April, 1993, in San Luis, Arizona.
"Sí se puede"
César Chávez nació en Arizona en 1927. Con su familia trabajó en el campo y se convirtió en activista a favor de los derechos civiles. Después de perder sus propiedades, su familia se mudó a California, donde continuó trabajando en los campos agrícolas. César tuvo que abandonar la escuela en el séptimo grado para trabajar con el fin de que su madre dejara de hacerlo.
En 1952, César se une a la <em>Community Service Organization  (CSO) y se convierte en activista y organizador sindical. Fue admirador de Martin Luther King, Jr. y Gandhi. Adoptó la no violencia como método de lucha. Decía: "En la no violencia no hay las derrotas". Utilizó los boicots, marchas, ayunos, huelgas y protestas como herramientas de lucha y respetó toda forma de vida convirtiéndose al vegetarianismo primero y al veganismo después.
Decía: "Me volví vegetariano cuando supe que los animales sienten miedo, frío, hambre y son infelices al igual que nosotros. Me identifico profundamente con el vegetarianismo y el mundo animal".
Con la sindicalista Dolores Huerta, Chávez fundó el <em>National Farm Workers Association</em> (NFWA) en 1962. Esta organización se convertiría luego en el <em>United Farm Workers  (UFW). Huerta acuño la frase "Sí se puede" en 1972. El WFW continúa activo en la actualidad.
En 1968, César Chávez y Robert F. Kennedy, entonces candidato presidencial, se reunieron en Delano, California. Kennedy era miembro del comité del congreso sobre labor migrante y quedó horrorizado al ver las condiciones laborales de los trabajadores agrícolas. Chávez y Kennedy hicieron amigos y trabajaron juntos hasta la muerte del segundo en junio de 1968.
En 1975, Chávez obtuvo una de sus más grandes victorias cuando la California Labor Relations Act fue aprobada. Esta ley permitió instituir la Agriculture Labor Relations Board.
Chávez encabezó boicots contra el consumo de uvas porque los pesticidas causaban enfermedades a los trabajadores y sus hijos, quienes sufrían defectos de nacimiento y cáncer. Al final también los consumidores comenzaron a sufrir enfermedades causadas por dichos pesticidas.
Al respecto Chávez decía: "¿Quién asume los riesgos? Los riesgos los corren los consumidores sin siquiera sospecharlo y los trabajadores más pobres. ¿Y quién se beneficia? Los beneficios son para las corporaciones, las cuales obtienen grandes ganancias."
César Chávez murió de causas naturales el 23 abril de 1993 en San Luis, Arizona.
https://en.wikipedia.org/wiki/Community_Service_Organization