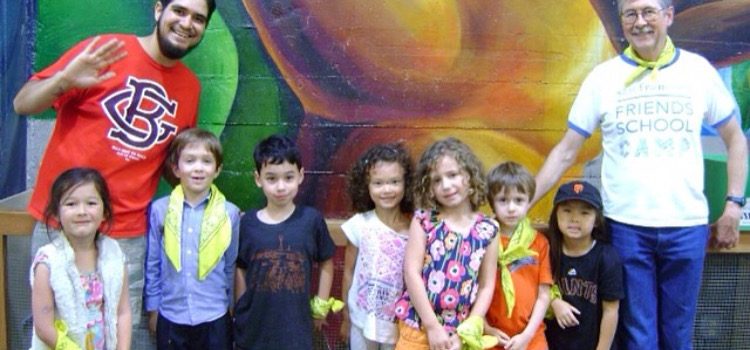 Rainbow Grocery believes in giving back to and supporting our customer community. As part of that commitment we donate 10% of the money reloaded onto Rainbow Scrip Cards to schools and daycare centers through the Rainbow Scrip Program.  The Program is open to any accredited or licensed day care center, nursery school, grade, middle or high school.
How It Works
The program works with a Rainbow Scrip Card that each participant will need to use when shopping at Rainbow. Rainbow Scrip Cards have an initial amount loaded onto them when the school purchases them, then your school supporter will load more money onto the card each time they shop at Rainbow and use that card to pay for their purchases. 10% of  the total added to the cards assigned to your school will be donated to your school at the end of each month. Shoppers can reload their card before ringing up their items or carry a running balance.
Getting Started
To purchase Gift Cards, click on the "Buy Now" button below. You will be taken to the PayPal website where you can enter any denomination (between $20 and $1,000) and the quantity of gift cards you want.
A physical Gift Card or Cards will be mailed, usually within two business days, via standard USPS to the shipping address you provide us through PayPal. IF you are sending the Gift Cart to another person remember to put their name and address in the Shipping address.
Contact James F. or Jennifer S. via email or by calling Rainbow's toll free number (877) 720-2667 (extensions  #337 and #345 respectively) to ask questions.
Click on the Paypal link below. You do not need a PayPal account. Simply, enter the amount and number of Gift Cards and then process your order through using the payment method of your choice.
The balance of an existing card can be checked at any register or by calling 1-888- 892-3813. Gift cards are also reloaded. This can be done Online by placing a new order here and then sending an email containing your name and the Gift card number on the back of the card.
It may take up to a week for us to process your request. We will call or email you when the cards are ready to be picked up.
Picking Up Your Cards
When the cards are ready, the program coordinator will come in to store and pick them up. They must bring a check from the school/day care made out in the value of the cards minus 10%, which the school retains.
The coordinator will then issue the cards and track the name and card number of each participant. This tracking is a security feature and may enable Rainbow to replace lost cards 
To order more cards or for more info and help please contact James Friesen at 415-863-0620 x 337 or email: jfriesen@rainbow.coop

Participating Schools Include:
Abraham Lincoln High School PTSA
Alvarado Elementary
Aptos Middle School
Brightworks School
Brisbane Elementary
Buen Dia Family School
Buena Vista School
Centro de la Olas School
Cesar Chavez Elementary
Children's Day School
Commodore Sloat School Fund
Creative Arts Charter School
Daniel Webster Elementary
Everett Middle School
Fairmount Elementary
Friends of Potrero
Friends of St. Francis
Garden Village
Gateway High School
German School of SF
Glen Park School
Glenridge Co-op Nursery
Grattan Elementry School
Golden Bridges School
Infant Development Center
Harvey Milk PFC
James Denman Middle School PTSA
James Lick Middle School
Jefferson Elementary School
Juniper Serra Elementary
Leonard R. Flynn Elementary
LPSI (La Scuola)
Lycee Francais School
Marshall Elementary School
Miraloma Elementry School
Miraloma Coop Nursery
Kinderhous
Mission Kids Co-op
Monroe School
New Traditions Elementary School PTA
Noe Valley Nursery
Oceana High School PTO
One Fifty Parker Ave
Rocky Mountain Nursery
Rooftop School
Rosa Parks Elementary School PTA
SF Community School
SF Friends School
SF Sschool
San Francisco Schoolhouse
San Francisco Waldorf School
Silverspot Co-Op Nursery
Slippery Fish Coop Pre-School
St. Brendan School
St. Finn Barr
St. Gabriel School
St. Philip the Apostle School
St. Stephen's School
Starr King Elementary PTA
Sunset Nursery
Synergy School
The Laurel School
West Portal Parents Club