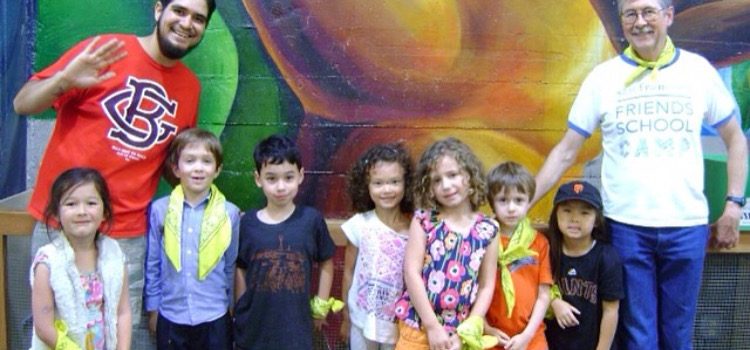 Rainbow Grocery Cooperative believes in giving back to and supporting our customer community. As part of that commitment we donate 10% of the money scrip supporters spend at Rainbow via making purchases using their School Scrip Cards.  The Scrip Card Program is open to any accredited or licensed day care center, nursery, grade, middle or high school.
How It Works
The program works with a Rainbow Scrip Card that each school supporter (be it a parent, a relative and friends!) uses for any Rainbow Grocery purchase.  To initiate a new program each School's Scrip Coordinator must contact one of our Program Coordinator(s) to enroll their school in our Scrip Program, place the initial order and come into the store to purchase it.  Scrip cards can be of any quantity and any denomination from $20 to $1,000 per card, this initial order will be purchased by the school at 10% less the card order face value and the form of payment must be a School or PTA check.  Each school supporter will need their own individual card.  Thereafter, each school supporter will add value to their card as needed and 10 % of the cumulative value will be donated back to one's supported school.  Scrip schools will be mailed their donation payment every three months via check or electronically via a direct deposit into their bank.
When your order is ready you will be contacted by one of Rainbow's Program Coordinators via phone or email. At that time come into the store to pay for and pick up the cards; please go to the Customer Service Kiosk and ask for the "Front End Coordinator".
On Weekdays please allow 24 hours for your order to be processed.  When you need additional or replacement Scrip cards this process will need to be repeated.  Thank you for joining Rainbow's Scrip School Program and happy shopping!
To enroll your school in Rainbow's Scrip Program and/or if you have any questions, please fill out this form:
Or give us a call 415-863-0620
Participating Schools Include:
Abraham Lincoln High School PTSA
Alvarado Elementary
Aptos Middle School
Brightworks School
Brisbane Elementary
Buen Dia Family School
Buena Vista School
Centro de la Olas School
Cesar Chavez Elementary
Children's Day School
Commodore Sloat School Fund
Creative Arts Charter School
Daniel Webster Elementary
Everett Middle School
Fairmount Elementary
Friends of Potrero
Friends of St. Francis
Garden Village
Gateway High School
German School of SF
Glen Park School
Glenridge Co-op Nursery
Grattan Elementry School
Golden Bridges School
Infant Development Center
Harvey Milk PFC
James Denman Middle School PTSA
James Lick Middle School
Jefferson Elementary School
Juniper Serra Elementary
Leonard R. Flynn Elementary
LPSI (La Scuola)
Lycee Francais School
Marshall Elementary School
Miraloma Elementry School
Miraloma Coop Nursery
Kinderhous
Mission Kids Co-op
Monroe School
New Traditions Elementary School PTA
Noe Valley Nursery
Oceana High School PTO
One Fifty Parker Ave
Rocky Mountain Nursery
Rooftop School
Rosa Parks Elementary School PTA
SF Community School
SF Friends School
SF Sschool
San Francisco Schoolhouse
San Francisco Waldorf School
Silverspot Co-Op Nursery
Slippery Fish Coop Pre-School
St. Brendan School
St. Finn Barr
St. Gabriel School
St. Philip the Apostle School
St. Stephen's School
Starr King Elementary PTA
Sunset Nursery
Synergy School
The Laurel School
West Portal Parents Club