You can find a large sample of our Alcoholic Offerings on Instacart.
Our beer selection, know as the Brewniverse, is ever-expanding. We try to stay ahead of the trends while offering of a good variety of quality, affordable beer from around the world, as well as right here in California.
We hand-select all of our wines and enjoy tasting each wine before we decide to bring it to our shelves. We are always on the look out for for new wines so that our selection is delicious, eclectic and will excite you and your guests. Many of the wines we carry are vegan, organic, biodynamic, or produced with old world methods.
NEW! Rainbow now features some of the best locally crafted, non-GMO and Organic Spirits. Look for this cabinet at the front of the store near the Customer Service Desk.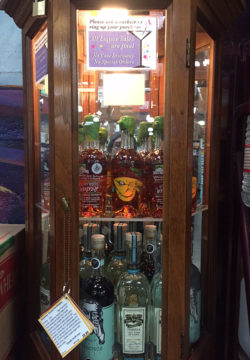 How to buy:
Choose a Bottle: See our display case and use the cards to make your selection before you go to the register.
Go to the Register: Tell your Cashier which bottle you'd like to buy. They will ring you up and give you a receipt.
Pick up your Purchase: Take your receipt to the Customer Service desk where a worker will assist you in picking up your purchase from our liquor cabinet.
Enjoy Responsibly! All liquor sales are final.  No case discounts or special orders available.