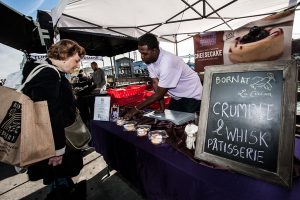 Welcome to Crumble & Whisk
Founded in 2013  by Charles Farrier, Crumble & Whisk has quickly become one of the most highly rated cheesecake bakeries in the Bay Area. Charles possesses a lifelong passion for baking. Growing up, he drew  inspiration from his father, and  began cooking at an early age, often experimenting with different recipes, and surprising his family with his creations.
After graduating from Culinary School, Charles began working at a local company as an office assistant.  When  he baked a cheesecake for a company party, it was  an instant hit with his colleagues. "Man, you should do this professionally!" many of them exclaimed during the event. Their accolades coupled with his own desire to pursue his passion finally motivated him to found Crumble & Whisk.
Charles has perfected his method and created many artistic cheesecakes. His cheesecakes are  well known for their shortbread crust, buttery smooth texture, and unique flavors. Today,  Crumble & Whisk delivers cheesecakes all over  San Francisco & the Bay Area for all kinds of events. What makes Crumble & Whisk' s cheesecakes special is hard to convey in words. No amount of hearsay and imagination can substitute taste, which after all, can only be experienced first hand.