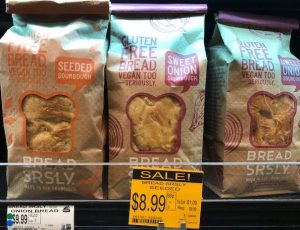 Bread SRSLY on sale for $8.99 (normally $9.99)
Demo Monday 8/18 at 4pm.
WE'RE DEDICATED TO MAKING SERIOUSLY DELICIOUS + WILDLY NOURISHING GLUTEN-FREE, VEGAN, AND ALLERGY-FRIENDLY SOURDOUGH FOR THE SENSITIVE FOODIE. 
Our bread is made by hand in a dedicated gluten-free kitchen with organic, non-GMO ingredients using traditional fermentation. All of our products are allergy-friendly and free of refined sugar and preservatives.
MADE IN A DEDICATED GLUTEN-FREE KITCHEN
*All of our products are made in a gluten-free facility that processes sesame.
http://www.breadsrsly.com