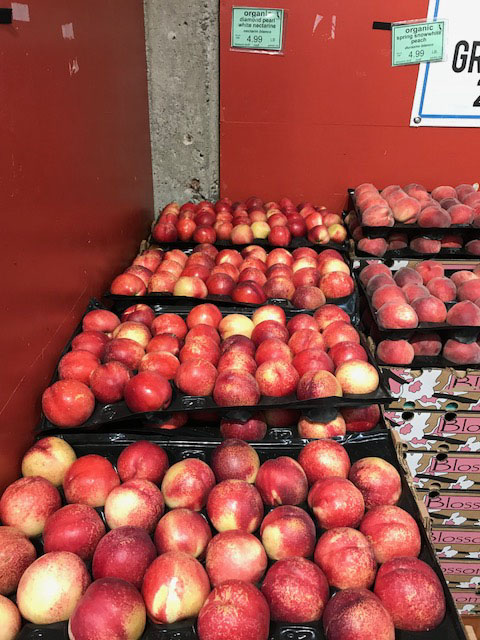 Blossom Bluff stone fruit is in season at Rainbow Grocery right now!
"Well, we grow fruit the way it used to be grown. Try it out and we think you'll taste the difference as well."
From their web site:
"Since 1931, our family's farm has been producing excellent fruit. And why shouldn't it? After all, we are situated in the heart of California's San Joaquin Valley, which is widely know to be one of the most fertile areas in the world. Over the past four generations, our farm has seen a lot of changes, but the quality of our fruit has remained consistent. We are currently growing over 150 varieties of tree fruit on just under 80 acres, and we'd love to share some of it with you.
All of our fruit is organically grown and certified by CCOF. We harvest at peak maturity into bucket sized totes and sort, size, and pack all of it by hand. Because of this delicate care, we are able to achieve a level of quality that large corporate farms simply cannot compete with.
That level of care continues beyond the handling of our fresh fruit. During the summer, our left over peaches, plums, nectarines, and apricots are cut by hand and pitted. They are then laid out on wooden raisin trays to dry naturally in the sun. During the cooler fall and winter months, we slice our delicious persimmons and mandarins into thin disks and dry them in our industrial grade dehydrator. All of the dried fruit sold on this site is unsulfured and certified organic by CCOF.
A lot of love and hard work goes into everything we produce. Too many people have given up on fruit because what they find at the store "doesn't taste like it used to". Well, we grow fruit the way it used to be grown. Try it out and we think you'll taste the difference as well."