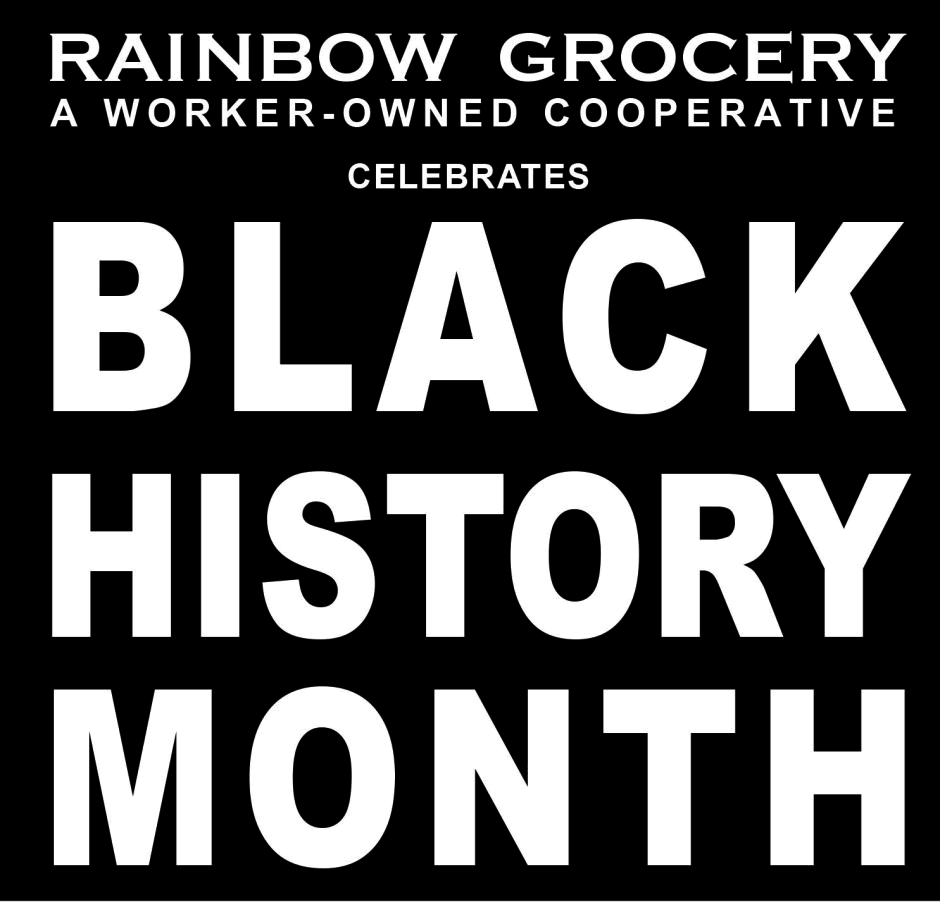 Rainbow Grocery Cooperative is proud to celebrate
Black History Month!
We have a stunning visual tribute featured in the front corridor of our store. Below are short and inspiring biographies of some of the heroes we chose to feature with portraits. Come to the store and check them out!
Huey P. Newton (1942-1989) founded the Black Panther Party for Self Defense with Bobby Seale in 1966 in Oakland, CA. Promoted education regarding legal rights, self-defense, and community programs in the black community for "survival pending revolution."
James Baldwin (1924-1987) was a preeminent novelist, essayist, and playwright. Baldwin was a participant in civil rights movement and famous for illuminating race, class, and sexuality dynamics in his written works, speaking tours, and in interviews with the media.
Rosa Parks (1913-2005), famous for her role in the Montgomery Bus Boycott by refusing to move to the "colored section" of a bus, was also an active participant in the black power movement, collaborating with members of the League of Revolutionary Black Workers, the Republic of New Afrika, and advocating for US political prisoners.
Rev. Ralph Abernathy (1926-1990) was a civil rights leader, minister, friend and mentor to MLK, and co-founder of the Southern Christian Leadership Conference (SCLC).
Dr. Martin Luther King Jr. (1929-1968) was the most prominent spokesperson for the civil rights movement. First President of SCLC, MLK is also known for his outspoken criticism of the war in Vietnam and capitalism in the years before his tragic assassination.
Janet Mock (b. 1983) is a journalist, memoirist, and transgender activist. She is known for writing Redefining Realness, published 2014.
Elaine Brown (born March 2, 1943) is a writer, singer, prisoner support activist, and former Chairperson of the Oakland chapter of the Black Panther Party. She wrote a memoir about her experience in the black power movement called A Taste of Power: A Black Woman's Story
Daniel Hale Williams (1856-1931) was the first surgeon to perform a successful heart surgery. Williams also founded Chicago's Provident Hospital, the first non-segregated hospital in the US and also founded an associated nursing school for African Americans.
Frederick Douglass (1818-1895) was an abolitionist movement leader, orator, and writer. He was also an early supporter of women's suffrage.
Kwume Ture (1941-1998), also known as Stokely Carmichael, was a prominent leader in the civil rights, black power, and Pan Africanist movements. As chair of SNCC he popularized the philosophy of black power.
Bayard Rustin (1912-1987) was a civil rights, labor, and gay rights activist and pacifist. He influenced MLK on non-violent ideology, helped organize the Montgomery Bus Boycott and Southern Christian Leadership Conference (SCLC), integration of all white unions as head of AFL-CIO, and the March on Washington for Jobs and Freedom in 1963.
Mary Ellen Pleasant (1814-1904) was a successful San Francisco entrepreneur and financial supporter of the abolitionist movement against slavery. She was believed to have provided jobs to those coming to the Bay Area from the Underground Railroad and to have conspired with John Brown by funding the famed raid on Harpers Ferry. Later in 1866, after being ejected from a streetcar along with two other black women, Pleasant sued the company. This lawsuit led to San Francisco outlawing segregation on public transportation.
Aretha Franklin (1942-2018) was the "Queen of Soul," an activist and financial supporter of the civil rights movement in the American South, women's rights, and Indigenous Peoples' treaty and cultural rights.
Kathleen Cleaver (b.1945) was the first woman in leadership in the Black Panther Party. She was Communications Secretary and spokesperson for the Black Panthers. Today she works to free US political prisoners.
Marsha P. Johnson (1945-1992) co-founded Gay Liberation Front and Street Transvestite Action Revolutionaries. She also was a prominent participant in the Stonewall Uprising in 1969, which ushered in the movement for Gay, Lesbian, and Transgender rights and liberation in the United States. Later she participated in ACT UP as an AIDS activist.
Malcolm X (1925-1965) was a prominent black activist, Muslim minister, and orator. He is a celebrated advocate for black self-defense, self-determination, and human rights and heavily influenced the black power movement, including the Black Panthers.
Nina Simone (1933-2003) was a musician and civil rights activist. Her music covered an impressively broad range of styles including classical, jazz, blues, folk, R&B, and pop.
Marcus Garvey (1887-1940) was a political leader, publisher, journalist, entrepreneur, and orator known for promoting black economic independence. To further his goals he founded Universal Negro Improvement Association (UNIA) which went on to create the Black Star Line, a shipping company to enable trade between Africa and the Americas, and the Negros Factories Association.
Harriet Tubman (1822-1913) Famous as a leading "conductor" on the Underground Railroad, Tubman is also revered for leading the South Carolina Combahee River Raid during the Civil War which liberated 750 people from slavery.
Jamil Abdullah Al-Amin (b. 1943) Also known as H. Rap Brown, Al-Amin is a civil rights and black power activist, and imam. He served as Chairman of the Student Nonviolent Coordinating Committee (SNCC) and as Minister of Justice in the Black Panther Party. Today he is a US political prisoner serving a life sentence.
Miss Major Griffin-Gracy (b 1940) is a transgender and anti-prison industrial complex activist and participant in the Stonewall Uprising. Since 2003, she has supported current and formerly imprisoned trans women of color through the Transgender Gender Variant Intersex Justice Project.
Maya Angelou (1928-2014) was a memoirist, poet, and civil rights activist. She wrote I Know Why the Caged Bird Sings. As a 16 year old she became the first black woman street car conductor in San Francisco in 1944 after a two week sit-in at Muni's personnel department.
Jackie Robinson (1919-1972) was the first African American to play in Major League Baseball.
Colonel Allen Allensworth (1842-1914) was a Baptist minister, former slave who joined the Union army during the Civil War, and the first black man to reach rank of lieutenant colonel in the US Army. Allensworth also founded the town Allensworth, CA in 1908. The only town in the state to be founded, financed and governed by African Americans.
A. Philip Randolph (1889-1979) was a civil rights and Labor leader. He is known for founding the first predominantly black labor union, the Brotherhood of Sleeping Car Porters, in 1925. He also organized the March on Washington for Jobs and Freedom in 1963 with Bayard Rustin.
Sojourner Truth (1797-1883) was an abolitionist, advocate for Women's suffrage rights, public speaker and itinerant preacher. She recruited black soldiers to fight during the Civil War and fought against segregation after the war.