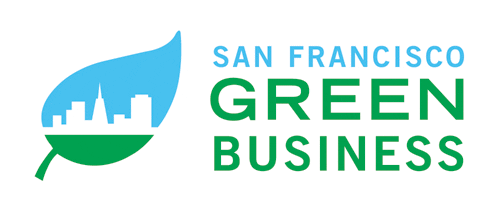 Rainbow Grocery Cooperative is a certified San Francisco Green Business and strives to exceed the stringent standards set by the San Francisco Department of the Environment. To learn more, go to http://www.sfgreenbusiness.org/.
In addition to reaching the environmental goals of our Mission Statement, Rainbow Grocery's ecological ambitions are further met by workers who serve on our annually elected Ecology Committee. These workers serve as an educational resource for workers, buyers, and customers, and they actively seek out innovative ways for Rainbow to minimize our environmental impact. Next time you're in the store, look up – those square lights in the ceiling are not fluorescent lights. You're being bathed in sunlight while you shop! Along with recycling, minimization of waste, pollution prevention, and water/energy conservation, Rainbow has also pursued the following environmentally conscious initiatives:
Installing a Daylight Harvesting System.
Installing energy-efficient compressors for our coolers.
Installing a 13.3 kilowatt solar panel system for electric usage and hot water heating.
Creating a Native Garden at our 13th Street entrance comprised of native plants from California and the Bay Area.
Offering financial incentives for customers when they reuse containers and bags to purchase bulk items.
Providing battery and used cooking grease recycling station for the public.
Providing "E-Cycle Day" where the community can properly dispose of old electronics containing potentially toxic materials.
You can contact our Ecology Committee for more information at [email protected]